In Boulogne-sur-Mer, it has always been a tradition to welcome foreign students during the summer period. This dates back to 1902 when the first French course for foreign students was established during the summer holidays and was initially organized by the "Alliance Française".
Interrupted during the two World Wars, this operation took on a new sense of purpose from the beginning of the 1950's. From that moment, the operation has been repeated each summer with a large number of foreign students coming to learn the French language in the town of Boulogne-sur-Mer.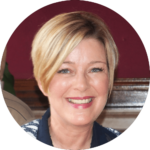 Directrice
Pascale Vernieuwe
Margaux | Assistante de direction
Every summer, about forty people are devoted to welcome more than a hundred students from all over the world.
The exchange between cultures and mutual respect are principles that are highly valued by us.
Offering a quality stay to learn French in the best conditions is our priority.
Boulogne-sur-Mer Langues et Cultures is a member of the Groupement FLE professional group and is therefore regularly audited for the quality of its programs, teaching and services.
Here is a non-exhaustive list of the values to which BMLC is very strongly committed:
• Guaranteed warm welcome to the center, Privileged moments of exchange with all the team and the other guests: mealtimes, outings, clubs, organized evenings, etc.
• Diverse teaching methods associating different practices
• Active student's participation
• Many opportunities to practice French outside lesson times
• Program of leisure and cultural activities open to all participants, many occasions to meet new people and make discoveries throughout the stay
• the desire to help each participant in his own discovery of the city, the region, France as well as in his daily practice of the French language.
Boulogne-sur-Mer Langues et Cultures is established as a registered association.
Originally administrated by the University of Lille, the association is now administrated by members of the University "Littoral Côte d'Opale" and the University "d'Artois", along with local personalities of the city and of the region.
The Boulogne-sur-Mer town council is equally involved in the reception and integration of our foreign guests in its town.